Products & Plans
Discover which ThinkCERCA package works best
for your school or district.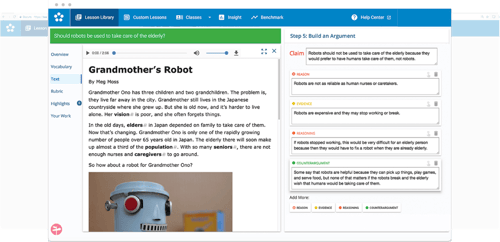 Our Supplemental Products
Writing Across the Curriculum
Roll out a comprehensive writing initiative.
---
Full access to all ELA, social studies, science, and math lessons
Shared language and scaffolds for teaching academic writing
Resources to help all educators teach literacy
English Language Arts
Build foundational literacy skills.
---
Full access to all English language arts content
Leveled informational and literary texts
Aligned to CCSS and other state standards
Social Studies
Prepare students for civic life.
---
Full access to all social studies content
Aligned to the C3 Framework
Lessons that support DBQs
Science and Math
Develop students' argumentation skills.
---
Full access to all science and math content
Aligned to NGSS and CCR
Discipline-specific texts and writing prompts
Partnership Options
Pricing varies by product, number of students, and professional development selections.
School

District

Contact Us
Contact Us

Product Features

10+ Levels of Differentiated Texts and Multimedia

Formative and Summative Assessments

Embedded Vocabulary and Audio Supports

Built-in Graphic Organizers

Direct Instruction to Teach Foundational Literacy Skills

Custom Lessons

Data Dashboards to Track Student Growth

And More!

Ongoing Support

Administrator and Teacher Resources

Teacher Training Courses

Live Chat During School Hours

24/7 Email Support

Weekly Usage Reports

Professional Development

School Success Manager

Virtual or Onsite Initial Training

Best Practices PD

Option for Custom PD

Option for Onsite Learning Walks

Mid-Year Data Review

End-of-Year Data Review

Virtual Administrator Trainings

Curriculum Mapping

Monthly Data Meetings

District-specific Resources